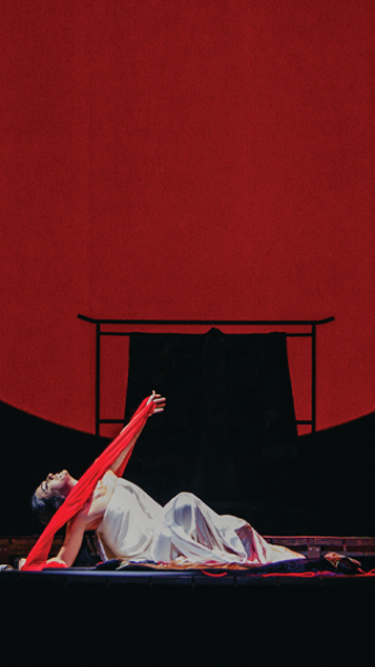 Opera
MADAMA BUTTERFLY
From to
Description
The successful production of Madama Butterfly, which opened the autumn season of the Greek National Opera in October 2020, introduces GNO TV, GNO's new web TV. Puccini's masterpiece was conducted by Lukas Karytinos, directed by Hugo de Ana and with internationally acclaimed soprano Ermonela Jaho in the title role.

Recorded in the GNO Stavros Niarchos Hall at the Stavros Niarchos Foundation Cultural Center on 10 and 16 October 2020. Subtitles are available in Greek, English and French.

The opera tells the story of the fatal love affair of fifteen-year-old geisha Cio-Cio-San with Pinkerton, a lieutenant in the United States Navy. After three years of absence the lieutenant comes back to Japan accompanied by his American wife, having learned that he has begotten a son by Butterfly. She agrees to give the child away only to Pinkerton himself, and after that she commits suicide.

Famous for its wonderful arias, strikingly melodic music and dramatic theatricality, Madama Butterfly offers timeless emotion and triggers intense feelings. Puccini does not hesitate to describe it as his favorite opera, and through his later modifications he makes his heroine's alabastrine figure a symbol of inexhaustible patience and eternal, constant love.

Giacomo Puccini's Madama Butterfly is a milestone work for the Greek National Opera, as it was the first opera ever staged by the newly-founded organization, on 25 October 1940, three days prior to the declaration of the Greco-Italian war. That historic premiere, held on the National Theatre's main stage, was attended by the composer's son, Antonio Puccini, and the Italian Ambassador in Athens Emanuele Grazzi, who, a few hours later, would deliver to the Greek government the Italian ultimatum threatening war.

This year, which marks the 80th anniversary of the Greek National Opera, Butterfly returns to GNO's new home, at the Stavros Niarchos Foundation Cultural Center, not only to celebrate the anniversary, but also to signal the GNO's return to action after the pandemic, and to show that art and culture not only survive in the most adverse conditions, but also constitute the driving force for man and society. The direction, sets and costumes of the production, which first premiered in 2013 at the Odeon of Herodes Atticus and was revived in a new version tailored to the stage of the Stavros Niarchos Hall, bear the stamp of famous Argentinian director Hugo de Ana. It is an impressive production with traditional Japanese costumes, while the sets and video projections impressively illustrate the country of the rising sun on the one hand and the heroine's psyche on the other. Video projections are designed by Sergio Metalli, and lighting by Valerio Alfieri.
At a glance – Synopsis
Madama Butterfly at a glance

The composer
Giacomo Puccini was born in Lucca, Tuscany, on 22 December 1858. The fifth of seven children, he was born to a family that had supplied his native city with musicians –church organists, conductors and composers, mainly of sacred music– for the previous four generations. He remains to this day one of the most renowned composers of Italian opera, as his works are regularly performed throughout the world. His musical style was already clearly developed by his third opera, Manon Lescaut (1893), while his next three compositions, La bohème (1896), Tosca(1900) and Madama Butterfly (1904), firmly established Puccini as Verdi's heir. The beautiful melodies and intense theatricality that define his operas successfully met the demands of their time. His last opera, Turandot (1926), remained incomplete due to his death in 1924.

The opera
A tragedia giapponese to a libretto by Giuseppe Giacosa and Luigi Illica, Madama Butterfly is based on the one-act play Madame Butterfly (1900) by American playwright David Belasco, itself based on an 1898 short story by another American writer, John Luther Long. This, in turn, was partly based on Pierre Loti's French novel Madame Chrysanthème (1887). The opera recounts the tragic love of Cio-Cio-San, a fifteen-year-old geisha, for Pinkerton, an American naval officer. After a three-year absence the officer returns to Japan with his American wife, having learned that he has a son by Butterfly. She agrees to give Pinkerton the child, but commits suicide shortly afterwards.

Premieres
Madama Butterfly's first, two-act version received its premiere at the Teatro alla Scala, Milan, on 17 February 1904. A revised, three-act version was performed on 28 May 1904 at the Teatro Grande, Brescia. The version in which the opera is usually presented nowadays is based on the Opéra Comique version, which was staged in Paris on 28 December 1906.

Synopsis

Act I 
Nagasaki, early 20th century. Benjamin Franklin Pinkerton, a lieutenant in the United States Navy, is arranging with Goro, a Japanese marriage broker, the last details of his upcoming marriage with Cio-Cio-San, a fifteen-year-old geisha also known as Butterfly. Pinkerton informs Sharpless, the United States consul, that in Japan a husband can break up his marriage anytime. In vain Sharpless tries to warn him that the adolescent girl is bound to take the marriage seriously.
The bride arrives with her friends and relatives. She shows Pinkerton her few possessions, including the narrow sheath that contains the dagger with which her father killed himself. Right after the ceremony the Bonze, Butterfly's uncle, arrives and denounces her for having forsworn her faith, urging the rest of her relatives to do the same. Cio-Cio-San is left alone with Pinkerton, who tries to comfort her. Suzuki, her maid, helps her dress for her wedding night and Butterfly joins Pinkerton in the garden.

Act II
Three years later, in the same residence, Cio-Cio-San is alone with Suzuki. Even though Pinkerton left for his home country shortly after the wedding and never returned, Cio-Cio-San remains faithful to him and dreams of the day that she will see him once again. Sharpless appears: he wants to prepare her for Pinkerton's return with his American wife. Cio-Cio-San refuses to listen and shows Sharpless her son by Pinkerton. She decorates the house for his arrival and settles to a night of waiting next to Suzuki and the child.
As morning breaks, Cio-Cio-San, who stayed up all night, takes her son to another room and sings him to sleep. Pinkerton and Sharpless appear and ask Suzuki to speak to the former's American wife. Pinkerton recalls the past. Filled with remorse, he chooses not to face Cio-Cio-San and leaves. Butterfly enters, looking for her husband. Much to her dismay she sees the strange woman in the garden and is informed by Sharpless and Suzuki that Pinkerton will never return to her. She seems to accept the situation and even agrees to give Pinkerton their son, if he comes to take him himself. She then asks to be left alone and decides to end her life. In an effort to stop her, Suzuki sends in her son. Butterfly bids him farewell, ties his eyes and commits suicide just as Pinkerton arrives
Creative team – Cast
Conductor 
Lukas Karytinos
Director, sets, costumes 
Hugo de Ana
Video projection designer 
Sergio Metalli – Ideogamma SRL
Lighting 
Valerio Alfieri
Chorus master 
Agathangelos Georgakatos

Cio-Cio-San 
Ermonela Jaho
Suzuki 
Chrysanthi Spitadi
Kate Pinkerton 
Violetta Lousta
Pinkerton 
Gianluca Terranova
Sharpless 
Dionysios Sourbis
Goro 
Nicholas Stefanou
Prince Yamadori
 Marios Sarantidis
Bonzo 
Yanni Yannissis
Yakuside 
Petros Salatas
Imperial commissioner
 Dionisos Tsantinis
Official registrar 
Theodoros Aivaliotis
Cio-Cio-San's mother
 Amalia Avloniti
Aunt 
Vaia Kofou
Cousin
 Fotini Hadjidaki


With the
Orchestra
and
Chorus
of the
GNO

Due to the COVID-19 pandemic the opera was presented in Ettore Panizza's instrumentation for reduced orchestra (ed. Ricordi).